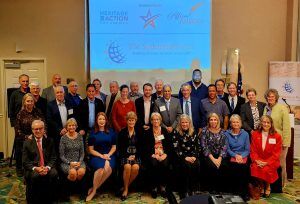 Here you can see all pictures of the Conference.

On October 14, 2023, forty regional political and activist leaders gathered at the Hilton Garden Inn Dulles North, Ashburn, Virginia for The Settlement Project Conference, "Cultural Transformation and the Race to 2024," cosponsored with FreedomWorks, Heritage Action and Affirm America.
The meeting was designed to and in fact, reached good success to strengthen participants in their already fine work to rebuild and positively shape America's Future
The conference brought together a top-tier lineup of speakers who offered good knowledge and experience on issues related to constructive cultural transformation, election integrity, and grassroots activism.
In keeping with Settlement Project traditions the day began with prayer, the National Anthem and a recitation of the Pledge of Allegiance. Rev. Jon Heddleston pastor emeritus of Reynolds Memorial Baptist Church led the opening invocation, fostering an atmosphere of unity and purpose.
Bill Gertz, award-winning national security journalist with The Washington Times welcomed participants with a brief video message of warmth and encouragement, emphasizing the importance of cultural preservation and the pivotal role of patriotic candidates and leaders in shaping America's future. His words helped create a sense of urgency and responsibility among the audience.
After brief self-introductions, which fostered a sense of community and camaraderie, Dr. Frank Kaufmann, Settlement Project President, spoke on The Vision and Mission of The Settlement Project. Dr. Kaufmann delineated 4 key elements in the organization's mission: 1. Service to patriots, 2. philosophical clarity about present-day culture wars, 3. local, human, face-to-face commitment (as distinct from an overly digital corporate identity, and 4. radical inclusivity across all faiths, ethnicities, and people of goodness.
The morning session, titled "Returning to a Healthy American Culture," featured compelling presentations from Ms. Katie Thompson, Virginia State Director of Heritage Action, Mr. Zach Laba, Deputy Director of Programs at FreedomWorks, and Mr. Michael Morisi, Vice President of The Family Foundation. After the presentations, speakers remained to make up a panel for discussion and questions and answers. They spoke on the role of faith and religions, and highlighted the urgent need for a strong family culture as the bedrock of a flourishing society.
Lunch, as always, provided excellent opportunities for networking and connecting. Participants shared experiences and exchanged ideas, strengthening the bonds needed for effective work going forward.
Additionally, Mr. Chris & Ms. Debbie Cloud, co-founders and firebrands of the American Life and Liberty PAC, which connects leadership with grassroots organizations to influence legislation related to protecting constitutional rights, values and freedom, spoke informatively and passionately on "Grassroots Activism & Effective Networking."
The afternoon segment shifted gears to focus on "The Race to 2024 & Election Integrity." Mr. Ned Jones, Deputy Director of the Election Integrity Network spoke with near encyclopedic command on the subject of securing the integrity of the vote, revealing a pile of documentation on far-reaching fraud and criminality associated with recent US elections. Mr. Jones shed light on the critical importance of safeguarding the sanctity of each person's vote and the urgent need for fair and honest elections. His presentation left even the seasoned activists in the room stunned by what he revealed.
A dynamic panel discussion followed, with esteemed speakers including Ms. Patricia Rucker, West Virginia State Senator, Ms. Lynn Taylor, Chairman of the Election Integrity Network and President of the Virginia Institute for Public Policy, Ms. Nancy Smith, Cabinet member of the Virginia Fair Elections Coalition and Policy Director of The Middle-Resolution PAC, and once again, Mr. Ned Jones. Their expertise, dedication, and direct personal experience raised a new level of commitment among the participants. Election integrity of core to the hopes of realigning America away from decline and vulnerability to hostile attack.
The conference concluded with a session on strategic planning and next steps. The event provided a transformative platform for individuals to harness their collective power and drive positive change.
By emphasizing the importance of cultural transformation, election integrity, and grassroots activism, the conference served as a catalyst for participants to intensify their status and effectiveness as agents of change in their respective spheres of influence.
We pray this effort will have a measurable impact on efforts to shape the cultural landscape of a healthy America.